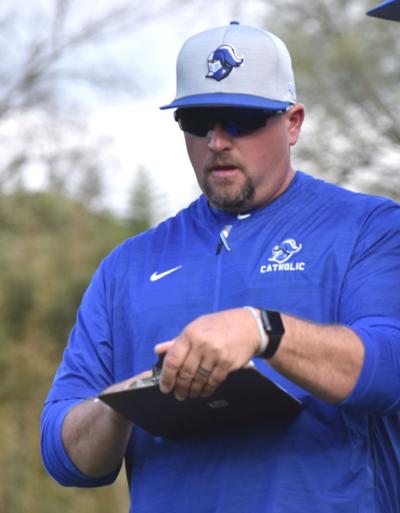 Today, Blackwell wears a Catholic uniform and goes to the third base coaching box instead of the pitcher's mound. In addition to being the successful coach of the Catholic football team, Blackwell now is at the helm of the baseball program. The day before his team whipped PCA 14-6, the Knights registered their first win of the season against Thorsby and the first win as a head baseball coach for Blackwell. "I'm glad to get the first one out of the way," Blackwell said.
Blackwell has been a winning head coach in three sports. In addition to baseball and football he has won as a golf coach. In 2013 he led Saint James to a successful season.
Blackwell was an outstanding pitcher at Lee. So good that he earned a scholarship to Central Alabama Community College (CACC). He pitched well at CACC and then finished up at the University of Montevallo. He was an assistant baseball coach in college at Montevallo and then Campbell University in North Carolina. Things were difficult on Blackwell and his young family since he was on the road a great deal as a baseball coach. "We were in North Carolina and really wanted to get home. I was gone a lot and I just decided that I would not sacrifice my kids for my career," Blackwell explained.
Blackwell picked up the phone and called his high school football coach and friend, Jimmy Perry, who was at Saint Paul's in Mobile at the time. He thought that was a good place to start especially since Perry was well connected in the coaching ranks. "I told him I wanted to come home and he said one of his assistants had just resigned the day before. He called me back in two hours and told me I was hired and to come back home to Alabama," Blackwell recalled. "I took off to Saint Paul's to be a defensive line coach and then I coached wide receivers."
Perry knew that he was getting a young assistant that loved football. Blackwell had been his quarterback at Robert E. Lee, and Saint Paul's was running the same offense as the Generals did.
"I always wanted to play college football. That was my first love. I just wasn't good enough. But I was lucky. God gave me a good arm, and baseball got me through college," Blackwell said. "Jimmy (Perry) got me back in football. Now, I'm coaching both sports, and Jimmy and I are coaching against one another since he is just down the street at Saint James."
The young coach made it clear that his goals at Catholic are not just to win games on one field and not the other. "I'm not at Catholic just to win football games. I'm not there just to win baseball games. I want to see Catholic excel at everything. I want our athletic program to be as good as it can be," Blackwell said.
Managing all of the duties of both sports is difficult. Blackwell said it was tough to oversee both sports, but he had a great coaching staff that was getting things done. "It's tough but we are making things happen. I'm in the weight room with the kids every day and involved with football on a daily basis. Our coaches are the ones taking up the slack and helping me to make sure we are moving forward in both sports," Blackwell said.
It may have been football that got Blackwell back to Alabama, but he was quick to call Paterson Field home. Blackwell pointed to the right field wall, in the gap, and said, "I remembering hitting a home run that went over the wall right there. Yeah, it's good to be home," he said.